Tyme Out: A New Launching Pad
K&N Pro Series where development takes place
By Ty Norris, Special to NASCAR.COM
March 25, 2010 - 12:13pm

In the fall of 1997, Dale Earnhardt and I had a closed-door conversation with an executive of our NASCAR Busch Series team's primary sponsor. We were informing this distinguished gentleman that we planned to move Steve Park to the Cup Series the following year and were replacing him with an unproven driver, Dale Earnhardt Jr.

Out of character, this executive lost his mind while expressing his displeasure. After all, Park had won three times in his only full season with DEI and finished third in points.
FULL STORY AT HOMETRACKS

Derek Ramstrom Earns a Climb on the Short Track Ladder Into the
NASCAR K&N Pro Series East
PASS Winner and Thompson Champion
is Ready for a Busy 2010 Season

By Mike Twist
Back in the days when the NASCAR K&N Pro East Series was known as Busch Grand National North, the path to compete on the tour was pretty straightforward. First, you won at a basic level of racing. Then you advanced and won some more. Sometimes, you'd even dip your toes in the pool of a another regional tour (like ACT or the now defunct Pro Truck Tour) and after showing your mastery of that, you were worthy and ready to graduate to what at the time was the premier touring stock car series of the Northeast. FULL STORY HERE
RAMSTROM TO RUN NASCAR K&N
PRO SERIES EAST IN 2010
WEST BOYLSTON, Mass. – Eighteen year-old Derek Ramstrom, a graduate of the PASS North Series and a Thompson International Speedway weekly Super Late Model racer, will run for rookie of the year honors in the NASCAR K&N Pro Series East for NDS Motorsport's Waste Management Recycling team's #35 car this season.

"It's just amazing," said Ramstrom, who was the youngest track champion in Thompson International Speedway history , in 2009, winning four races en route to the Super Late Model title. "I really couldn't ask for a better opportunity than this, NDS Motorsports has fielded competitive cars in the series for many years." The experience acquired by his time racing at Thompson, which is described by Derek as the largest and fastest short track in New England, has-in his opinion-prepared him to move up to the Pro Series of NASCAR.

Despite his relative youth, Derek notes that he will not be the youngest driver in the Pro Series in the coming season. For instance, 2009 Champion Ryan Truex is only seventeen. Winning the first PASS Late Model Outlaw series championship in 2005 at the age of thirteen, Ramstrom now enters a series that abounds in quality teams supporting some of the most promising young drivers in the nation.

Ramstrom, at the age of eighteen, already has enjoyed an experience as long as many drivers have in an entire career. He started racing quarter midgets at the age of six and then Allison Legacy cars before moving up to late models at the age of 13. He will find himself competing at more tracks, and he will be running at larger tracks than before. He will be logging many more miles in his new series, as well. Young Derek will have raced this year in nine states Iowa, Georgia, Arizona, California, Virginia, South Carolina, New Hampshire, Connecticut and Delaware.

Derek still plans to race as many as twelve weekly Super Late Model races at Thompson and around six PASS races this year. His racing horizons will have broadened considerably by the time this promising youngster is graduated from West Boylston High School in June.

Ramstrom's first race of the new season is the K&N Pro Series East opener at Greenville-Pickens Speedway in Greenville, S.C., on March 27.

NASCAR K&N PRO SERIES EAST 2010 MEDIA GUIDE HERE

NASCAR HOMETRACKS

News & Notes:

K&N Pro Series East Set To Open At Greenville Pickens Speedway
NASCAR Official Release - March 22, 2010

After taking the NASCAR K&N Pro Series East by storm a year ago, Ryan Truex will once again look to follow in his older brother's footsteps in 2010.

Ryan became the third member of the Truex household to compete in the NKNPS East in 2009, preceded by his father, Martin Truex Sr., and brother, Martin Truex Jr. As it turned out, Ryan one-upped them both, as his stellar rookie season in the No. 00 NAPA Toyota resulted in the first championship trophy for a Truex in NASCAR's top developmental series.

As the 2010 season opens this weekend at Greenville (S.C.) Pickens Speedway, Ryan will once again strive to follow in the large footsteps of his older brother. While he did not earn a title in the NKNPS East, Martin Jr. did become a back-to-back champion in the NASCAR Nationwide Series in 2004 and 2005. Ryan now has his sights set on a repeat in the K&N Pro Series East.
FULL STORY HERE
.
Raceday Notes


The Race ... The Kevin Whitaker Chevrolet 150 will open the 24th season of NASCAR K&N Pro Series East racing, the first under the K&N Filters sponsorship. This will be the fifth season in a row that the series has visited Greenville (S.C.) Pickens Speedway.

The Procedure ... The starting field is 30 cars, including provisionals. The first 26 cars will have secured starting positions based on two-lap qualifying. The remaining four spots will be awarded through the provisional process. The race will be 150 laps (75 miles).

The Track ... GPS is a half-mile asphalt oval with five degrees of banking in the turns. The facility opened in 1946 with a dirt racing surface and was paved in 1970. There were 29 NASCAR Sprint Cup Series races held at GPS from 1951-71.

Race Winners ... In the four previous NKNPS East races at GPS there has yet to be a driver record more than one victory. Sean Caisse, winner of the inaugural race in 2006.

Pole Winners ... As with race winners, there has yet to be a driver that has earned multiple poles at GPSS. Brett Moffitt is the only driver entered for this race with a pole at GPS, earned last year. Joey Logano has the qualifying record at 20.576 seconds (87.481 mph). When Moffitt won the pole, he also eclipsed Logano's series record as the youngest pole winner at 16 years, eight months.

New Era Begins Under K&N Sponsorship
NASCAR announced on Jan. 21, 2010 during the Charlotte Media Tour that K&N Engineering, Inc., will be the title sponsor for NASCAR's top developmental series, formerly known as the NASCAR Camping World Series East and West, beginning in 2010.

The NASCAR K&N Pro Series will continue to crown champions through separate schedules on the East and West Coast. The seven-year agreement illustrates NASCAR's commitment to the grassroots foundation of the sport.

The NASCAR K&N Pro Series encompasses NASCAR's oldest stock car series in the West, which dates back to 1954, and the East that has evolved from the former Busch North Series. It runs on a challenging combination of speedways, short tracks and road courses, and the series has made its mark throughout the years with tough competition and exciting racing.

The Riverside, Calif.-based K&N Engineering is the inventor and leading innovator of reusable cotton gauze filter technology for automotive applications. K&N, which has grown from a family-run business to a global company, traces its involvement with NASCAR back to the days of supplying parts for the NASCAR Sprint Cup Series races at the old Riverside Speedway.

NASCAR Official Release - March 9, 2010
DAYTONA BEACH, Fla. – NASCAR has announced today the television schedule for its developmental series for 2010.
The expanded calendar includes 21 events on SPEED for the NASCAR K&N Pro Series and seven races for the NASCAR Whelen Modified Tour and NASCAR Whelen Southern Modified Tour. This comprehensive package includes airing of every race on the NASCAR K&N Pro Series East and West schedules. Three of the Whelen Modified Tours will air as same-day televised events.
SPEED, anchored by its popular and wide-ranging coverage of NASCAR, is the nation's first and only cable television network dedicated to automotive and motorcycle racing, performance and lifestyle. The NASCAR Developmental Series programming will air Thursdays at 6 PM.

FULL STORY & CHART OF EAST SERIES
SPEED BROADCAST DATES & TIMES HERE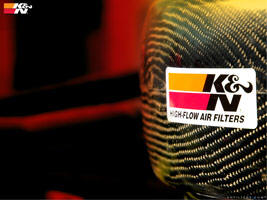 K&N Engineering, Inc. To Be Title Sponsor
For Top Developmental NASCAR
K & N Pro Series FULL STORY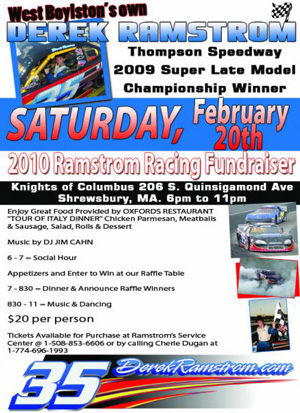 The first annual Derek Ramstrom Racing Fundraiser was a huge success. The party was held at the Knights of Columbus in Shrewsbury on the 20th of February.

The sell out crowd was entertained by DJ Jim Cahn who did an outstanding job of being MC as well as playing music that had the dance floor crowded all evening. The food was delicious, featuring a "Tour of Italy" courtesy of Oxfords Restaurant in Oxford, MA. We sold 50 "grand" raffle tickets which included admission for two to the event and a one in 50 chance to win one of the big prizes. The winners of the grand prizes were:

Weekend in Vermont - Joe Renzoni
Thompson Speedway Basket - Bob Torriere
Derek "Ride Along" - Ryan Hadley
Patriots Basket - Jim Callery
37" Flat Screen TV - Denny Stampfl

The team did an excellent job of obtaining raffle prizes. More than 35 prizes filled the tables, including a Ken Bouchard Driving School coupon, two beautiful watercolor paintings from Mark Waitkus, Raceway Golf gift certificates, Thompson Speedway gift certificates, many restaurant gift certificates tickets to the Hanover Theater, and baskets filled with goodies, and so much more.

The evening so much fun, a chance for the team to be with friends to celebrate Derek's championship and to get pumped for the upcoming season.

Derek and the team would like to thank all our friends who came to celebrate with us. We also want to thank those who graciously donated but were unable to attend. Lastly we would like to thank our friends who worked tirelessly to make the evening the amazing success it was.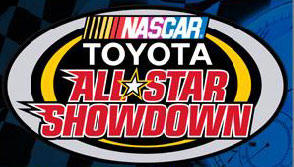 Toyota Speedway at Irwindale
JAN 29-30, 2010

.
The Ramstrom Racing Team headed to sunny California in an attempt to quality for the for the Toyota All-Star Showdown. Derek is driving the #53 Bollegraaf/Lubo sponsored Chevrolet. Fortunately the rain had stopped and the weather was perfect for racing. Derek had never raced on the 1/2 mile oval and was anxious to practice the car.

Derek was really happy with the practice times, many of his laps putting him in the top 10. Derek was the sixth car to hit the track to qualify. The track was pretty green at the time which made his qualifying time of 18.755 seconds outstanding. Unfortunately the 21st position that he earned didn't stand, the drivers with guaranteed starting spots took over. Derek ended up starting 31st with a provisional.

Derek took the green flag and in true Derek fashion began to slowly and methodically make his was toward the front. By lap 89 Derek was one of the biggest movers of the race, putting himself in the 14th position. A competition yellow was thrown on lap 99 and the #53 Bollegraff/Lubo Chevrolet came in for service. Tires, fuel and a minor track bar adjustment and Derek was back on the track. At lap 145 Inglebright spun out in front of Derek forcing him high on the track. Derek had absolutely no where to go, the was a car right under him. Derek and three other cars crashed, bringing him back to the pit area on the wrecker. The car was clearly not heading back to the track but to the hauler. Despite the dismal end, Derek and the crew were really pleased with the run. He proved yet again, that he can compete against so of the finest racers in the country.
FOLLOW THE SHOWDOWN AT
NASCAR HOME TRACKS HERE
.
FRI. 29th - DEREK IS STARTING IN 31ST
STARTING GRID HERE
.
33RD PLACE FINISH FOR DEREK

LAP by LAP RACE REPORT HERE
"Lap 145 -- CAUTION NO. 10: Inglebright spins
in Turn 2, then Combs, Koch, Ramstrom and Thompson are wadded up between Turns 3 and 4. The latter four will need wreckers."

AWARDS BANQUET - JANUARY 22ND
Derek and the Ramstrom Racing Team were honored Friday night January 22nd at Thompson Speedway. Derek was honored for his stunning 2009 race season in the challenging Super Late Model Division. Despite a shortened race season, Derek never once crossed the checkers outside the top ten. He scored 13 top five finishes, including four wins.

The championship came down to the very last race. Derek had to beat Mike O'Sullivan in order to secure the championship. Derek managed to hold off O'Sullivan in what was certainly the most nerve racking race of the season. Derek managed to finish ahead of O'Sullivan to secure the coveted title by a mere six points.

Derek thanked his crew for their dedication with commemorative Ramstrom Racing Jackets. He also thanked his fellow competitors in the Super Late Model Division, particularly Mike O'Sullivan, for racing him clean all season, the Hoenig Family and all the staff at Thompson Speedway for providing the best place to race in the Northeast. Derek and Rick also want to thank all their sponsors for the continued assistance to their team, they would not have been in the position they are in without each and every one.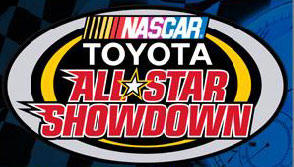 Toyota Speedway at Irwindale
JAN 29-30, 2010
Derek and the Ramstrom Racing Team will be going west at the end of January to the NASCAR Toyota All-Star Showdown. Derek will attempt to qualify the #53 Camping World Series racecar that he raced this year at NHMS, Thompson, and Lime Rock.

This event is an all-star race which guarantees starting positions for those drivers who won a race in the Camping World Series during the 2009 season. In addition, 2009 series champions from NASCAR's touring divisions are eligible for a guaranteed starting position. Derek will have to qualify his way into the race through time trials. Those who don't make it into the race through time trials have a final opportunity to qualify through the "last chance" race.

The Toyota All-Star Showdown is a prestigious race that NASCAR has run for six years. This event brings together the finest racers from around the country and is considered to be a "must attend" by race teams. The weekend's events, including the 225 lap Camping World Series race, will be televised live on SPEED. Qualifying for the race is on January 29th and the feature race will run on January 30th.