Thursday Thunder - Thompson - 6/4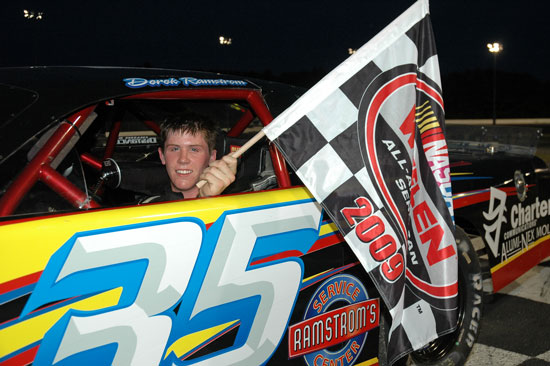 A Win for Derek
Derek found his way back to Victory Lane Thursday night at Thompson Speedway. The #35 Super Late Model took the green deep in the field for the feature race. Derek took his time, showing the patience of a seasoned veteran as he picked off the cars one by one. Derek was exceptional on restarts as he overtook the leader. The race ended with a green/white/checker restart, Derek leading the field and crossing the finish line first, bringing the Ramstrom Racing Team to Victory Lane for the first time this season.

Derek dedicated this win to a good friend of the team, Frank Belsito, who passed away recently.

This Thursday, June 11, is West Boylston night at Thompson Speedway. Derek and the team are giving free tickets to any West Boylston Student. Derek will have his car on the midway during the evening, signing autographs. We will have T shirts, hats and stickers available for purchase.

Please visit www.thompsonspeedway.com or call 774-696-1993.

The team will be headed north to Canada on Saturday, June 13th for the next PASS race!


Thompson Website Race Story:
Derek Ramstrom of Worcester, MA, entertained with an impressive run to the Super Late Model checkers. Fred Astle, Jr. held on to the lead; holding back the charges of a hungry Jeff Connors. A bobble by Astle on lap six opened the door for Connors and a host of other drivers. Astle slipped back to the tail-end of the top ten.

Steve Desmarais was holding strong in second while Dave Silvia, Marc Curtis, and Ramstrom jockeyed for position. Contact between Silvia, Curtis and Ramstrom gave Norm Wrenn some running room inside the top five. Connors maintained his lead over Desmarais and Silvia.

The first caution flew on lap 17. During the short green flag run, Ramstrom had begun his mark to the front. By the time the caution flew again, he was second. With ten laps to go, Ramstrom caught Connors. Wrenn, Desmarais and Macedonio were three-wide for third.

Ramstrom meanwhile got alongside Connors. He settled back in line only to make another run with five laps remaining. On lap 25, Ramstrom drove by Connors and into the lead. Once out front, Ramstrom immediately began to distance himself from the field.

A last caution for a spin by the Curtis set up a green/white/checker restart. Ramstrom, unfazed by the restart, cruised to the checkers for his first win of the season. Connors settled for second over Wrenn. Mike O'Sullivan and Les Rose, Jr. completed the top five.

Super Late Model Feature Finish 30-Lap Feature (Top-Ten) Finish:
1. Derek Ramstrom, Worcester, MA; 2. Jeff Connors, Ellington, CT;
3. Norm Wrenn, Nashua, NH; 4. Mike O'Sullivan, Springfield, MA;
5. Les Rose, Jr. Southbridge, MA; 6. Dave Silvia, Warwick, RI;
7. Steve Desmarais, Westport, MA; 8. Jay Macedonio, Somerset, MA;
9. Jeff Zuidema, N. Brookfield, 10. Jim Banfield, S. Glastonbury, CT.


Points Standings:

1 - 1m - NORMAN WRENN - 146

2 - 35 - DEREK RAMSTROM - 142

3 - 62 - LESLIE ROSE, JR - 132
4 - 08 - MIKE O'SULLIVAN - 130
5 - 51 - JEFF CONNORS - 118


Photos by Scott and Trevor Nickel


http://scottnickel.smugmug.com/

Thursday Thunder - Thompson - 5/28

Rained Out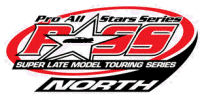 White Mountain Motorsport Park
Saturday, May 23rd - 4 PM



DEREK 2nd!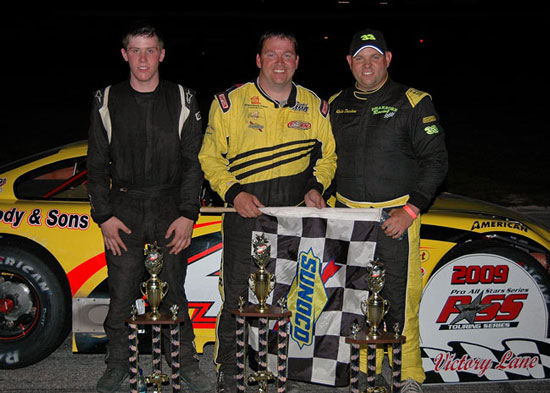 Battling to the front from a 15th place starting spot, Derek raced with the #4 of Ben Rowe who moved into first and held Derek off for the last fifteen laps. Travis Benjamin had been flying in the lead, but a tangle with Rowe on lap 135 saw Benjamin's #17 spun into the infield. Richie Dearborn took 3rd in his #33.

51 Leftovers: PASS North at White Mountain
By Mike Twist

RAMSTROM FINDS HIMSELF A RUNNER-UP FINISH
Besides race winner Ben Rowe, there were plenty of other drivers who appeared to have very quick racecars at White Mountain - Kelly Moore, Travis Benjamin, Cassius Clark and Tony Ricci, just to name a few. But all of those guys had trouble pop up during the race, and as they say, to finish first (or second), you must first finish.

Derek Ramstrom stayed out of trouble all race long, and while he might not have appeared to have as quick of a car, he did survive to finish in the second spot.

"It was pretty crazy," said Ramstrom. "I started in the back and had some luck in the beginning. I worked my way up to the front and had fun…a lot of fun."

Shadowing Ben Rowe, a master of White Mountain who has now won a total of eight PASS North races there, was a good experience for Ramstrom in the closing laps.

"I can watch his style and how he drives it in and drives off," said Ramstrom. "I can just kind of learn his moves."

Ramstrom now sits third in the PASS North standings.

"We've been trying to maintain top fives and top tens. Other than Unity, we've been going pretty good."

Two days before the White Mountain race, Ramstrom also captured a podium finish in the Super Late Model feature at Thompson International Speedway (CT).

"That's good too. We didn't wreck the car and had two good finishes this week. We've got a good team and everyone's working hard, so that is working well this season."

But as nice as podium finishes are, there is one thing that Ramstrom would much prefer.

"We just want to get some wins. That's what is next."

Thursday, May 21st
First Thursday Night Thunder Show



3rd Place Finish - 2nd in Points Standings
Thompson Speedway began TNT, Thursday Night Thunder and Derek finished the race with class and determination. Derek started his heat race deep in the field and was boxed in and was unable to get a decent finish, relegating him to a middle of the pack for the start for the Super Late Model feature race.

The green waved on the feature and the #35 Ramstrom Racing Machine made quick work of picking off the cars in front of him. After a couple of cautions Derek found himself trying to take down the leader, Les Rose. Derek was racing for the lead when he was run out of room coming out of turn two and spun into the infield. Derek did a great job getting control and causing no damage to either himself or anyone else in the field. Derek had to start at the rear of the field, with about 20 laps left in the 30 lap feature race.

Derek methodically picked off the cars in front of him, putting on a show racing Jeff Zuidema for many laps, looking like their cars were superglued together for several laps. Derek brought home the #35 car in third place, a finished he and the entire team were extremely happy about. Derek is second in points at Thompson, just eight points out of first.

UNITY RACEWAY - SAT. MAY 16TH
PASS NORTH 150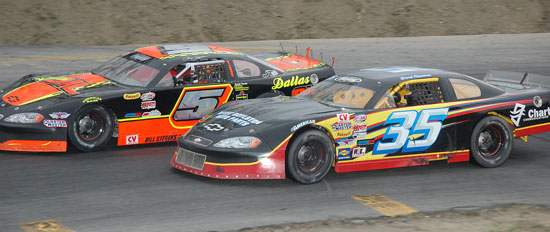 11th for Derek at Unity Raceway
The draw for last in the third heat left Derek with a poor heat finish and a a back of the field starting spot for the feature.

Early race action saw the #35 pick up a few spots to settle into 13th. But the handling of the #35 was off and Derek just couldn't make much headway. An 11th was the final result in a quick race that only had
four cautions.
51 Leftovers: PASS North at Beech Ridge
Staples, Shaw, Moore, Bates,
Ramstrom
, & More

By Mike Twist
Derek in the Speed51
Short Track Draft 2009 HERE
Beech Ridge Motor Speedway - Sat. May 2nd


The PASS 150

5th for Derek at Beech Ridge
The Ramstrom Team headed north on Saturday for the second PASS race of the season. Beech Ridge is a track that Derek really enjoys racing at and generally does very well. Derek was pleased with the car right off the hauler and the team made minimal adjustments during the practice rounds. Derek won his heat race and was ready for the 150 Lap feature.

Derek started outside pole, with Matt Fraham on the point. Derek got an excellent start and took off when the green flag waved. Derek had a commanding lead, no one was near him for the first fifty laps. On the restart Derek had some fierce competition from Cassius Clark. The two cars battled for position and finally Clark took the spot away. The #35 machine began to tighten a bit but Derek never fell below the fifth position the entire 150 lap race. Derek battled on the last lap with the #60 machine of DJ Shaw for the forth position but Shaw got him by a nose racing to the checkers. Derek finished 5th, an outstanding run.

Derek is in the 5th position in the fierce battle for the PASS North point chase. Only four points separate Derek from points leader, Cassius Clark.

The next race for the Ramstrom Racing team will be a PASS North race at Unity Raceway on May 16th. Thompson begins it's weekly series on Thursday, May 21st.

Speed51 Trackside Now Report HERE
.
Race Finishing Order at PASS HERE
Derek posted fast lap of the race at a 15.247

Derek 6th at Speedway 95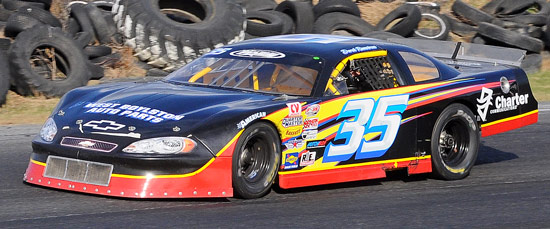 Race finishing order at PASS Here
PASS PRESS RELEASE - Hermon ME (April 19) Johnny Clark fired his Car Crushing/Port City Race Cars Impala SS under Richie Dearborn and Cassius Clark on lap 136 of Sunday's Pro All Stars Series (PASS) NAPA 150 to take the opening day win at Speedway 95 in Hermon ME. Clark got into Dearborn on the backstretch in a side by side battle for the lead and Dearborn dropped his right rear off the backstretch, slipping back to fourth at the finish after leading much of the day. Cassius Clark raced back from an early race incident to capture second place. Chubbuck came home third after running up front all day . Dearborn and Adam Bates rounded out the top five.

The defending PASS North Champion beat Cassius Clark to the stripe by .389 seconds.
Derek Ramstrom
, Chris Staples, John Flemming, Ben Rowe and Donnie Whitten raced home sixth thru tenth. Fifteen cars finished on the lead lap.

Dearborn,
Ramstrom
and Cassius Clark each earned heat race wins. Derek started in fourth in the heat and moved almost immediately into the lead for an easy win and a front row start in the feature.

Cassius snatched the lead away from pole sitter Dearborn on lap six but Kelly Moore's NAPA Chevy was charging and it looked like he might have something for Clark. They battled tooth and nail for several laps before the pair got together, spinning out of the top two spots on lap fifty six. Clark fell back to thirteenth and Moore restarted fourteenth. Scott Chubbuck was the beneficiary, restarting in the lead, but Dearborn and Chris Staples soon made their way by. Those three ran nose to tail at the halfway mark, with Johnny Clark fourth and Ramstrom fifth. Staples had a great run going, keeping the pressure on Dearborn and battling back and forth with Chubbuck for the second spot.

With twenty five to go Cassius Clark had recovered from his early spin and looked like he was ready to challenge Dearborn for the win; Johnny Clark worked his way up to third and local hero Scott Alexander was running a fine fourth as Staples faded back from the lead pack. Alexander's day would eventually end in the tires off turn four with the finish line in his sights.

It all came to a head on a lap 136 restart and Johnny Clark showed his hand, clashing with Dearborn to grab the lead. Despite Cassius'best efforts to run him down, it was Johnny at the checkers by two car lengths.
---
PASS NAPA 150 at Speedway 95
Naples ME (April 14) The Pro All Stars Series (PASS) North season kicks off Sunday April 19th at Speedway 95 in Hermon Maine with the NAPA 150 and fans of the fastest full fender short track series in the east are asking themselves, "can Ben Rowe Rowe score three PASS super late model wins in a row and lead the points in all three title chases?"

It will be no easy task, but the four time PASS North champion is definitely on an early season roll. With PASS South wins at Dillon (SC) Motor Speedway and Hickory (NC) Motor Speedway already under his belt, Rowe leads both the PASS South and National Championship title chases. A win in the NAPA 150 and a good run in his qualifying race could put Rowe on top of the North Series points as well, a feat never accomplished since PASS started the South super late model series in 2006.

Rowe will have his hands full with a strong field of super late models that will include defending PASS North champ Johnny Clark, 2008 race winners Travis Benjamin, Adam Bates, Derek Ramstrom and 2008 PASS Rookie of the Year D.J. Shaw, Scott Chubbuck, Kelly Moore and a host of new talent including Steve Legendre and John Dabrowski.

If licensed drivers are any indication, the PASS Sportsman and Mod divisions should see their ranks grow in 2009. Many of the top guns in the Sportsman class are back on board for 2009, including Steve Bennett Sr., 2008 Rookie of the Year Kyle Hart, Mike Landry, Duane Seekins, Shane Tatro and many more. New names and veterans dot the Mod list, including Greg Ellis, Scott McDaniel, Steve Bennett Jr. and Dan Somes. The Mods "move up" to 10 inch tires this season, and the quick, economical class should be even more exciting in 2009.

- NAPA Two for One Discount Coupon:
2 Adult Tickets for $10.00 each!
If you've made it this far, you're in for an additional treat! NAPA will be offering a Two for One discount coupon, valid exclusively at the NAPA 150 at Speedway 95 this Sunday, and for the Father's Day weekend (6/21) race at Unity Raceway. The two for one coupon brings the price of two adult tickets down to $10.00 each.

"We felt it was an opportune time to give back to the fans that have supported PASS in the North for nine seasons now," said series President Tom Mayberry, " and with the cooperation of NAPA we are able to offer this coupon for these two events. " The Two for One coupon will be available in Bangor area NAPA stores late this week.

PASS North goes green for the first time in 2009 at Speedway 95 on Sunday April 19th at 2:00 PM sharp.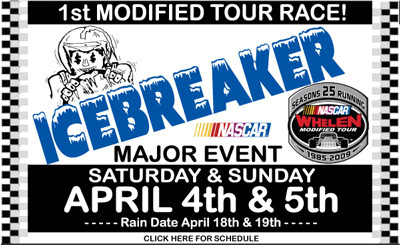 Norm Wrenn

scored a comfortable victory in the Super Late Model feature at Thompson. Mike O'Sullivan barely held off

Derek Ramstrom

for second place, while George Bessette finished fourth.

The race for the lead had been fierce, but clean. At one point, the battle for that position was three-wide.

The Ramstrom Racing Team would especially like to thank
our sponsor for the weekend:


.

John Walker, President of ALUMI-NEX MOLD Inc.


.

Thanks for his support of this important
beginning of the 2009 Season.

Jamie Williams Photos
.
Sunday, April 5,2009

The 2009 racing season has finally kicked off with the Icebreaker at Thompson Speedway in Thompson, CT. Derek has been shaking the #35 Super Late Model down for a couple of weeks and was ready for the season opener.

Saturday brought freezing temperatures but spirits were hot when Derek took the track for qualifying. He ran great and finished third, putting him in the 5th starting spot for the feature race on Sunday.

Sunday was a much sunnier and slightly warmer day and Derek was psyched to be back in the car for the feature race. The #35 started 5th on the grid. Derek was smooth and patient, letting the leaders battle it out. At about lap 15 Derek worked his way into the 3rd spot and began chasing down Mike O'Sullivan and Norm Wrenn. His car seemed a bit loose in the corners and he just didn't have enough to catch the leaders, relegating him to a third place finish. When Derek was congratulated after the race his only comment was "That was fun!".

The next event for Derek and the Ramstrom Racing Team is the season opener for PASS. This race is scheduled for April 19th at Speedway 95 in Bangor, ME.

Thompson Speedway is off until they kick off their "Thursday Night Thunder" series on May 21st.