WORLD SERIES - Sunday, Oct 14th
FIRST LAP CRASH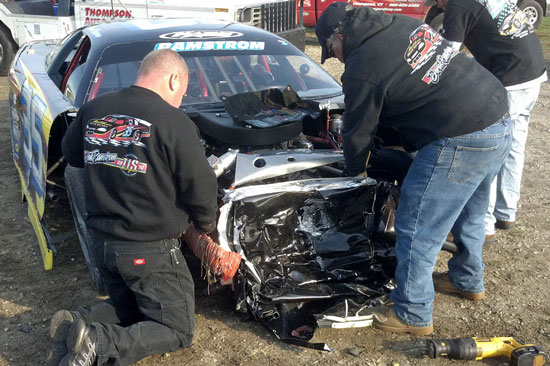 A first lap, six-car crash (following a called-off start but without a field reset) took out the #35 at the beginning of the race.
Photos by
Stephanie Jordan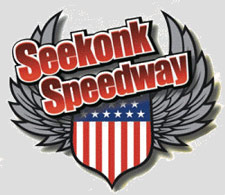 DAV FALL CLASSIC - Sunday, Oct 7th

THE WIN at the DAV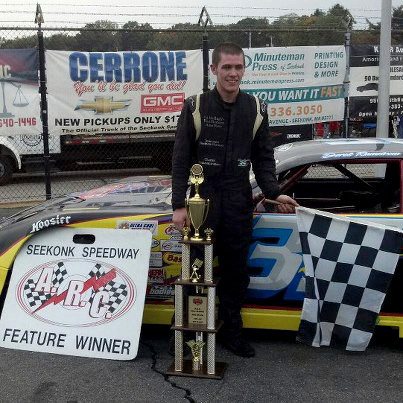 Derek Ramstrom Gave Seekonk Racers
a Driving Lesson in the DAV Memorial
By Lou Modestino
Derek Ramstrom proved that his experiences on various tours and other oval tracks paid off in dividends at Seekonk Speedway's DAV Memorial.

Derek Ramstrom, Rowan Pennink, Ryan Vanasse and Rick Martin all picked up the DAV Fall Classic wins. In the tough 100 lap marathon known as the Pro Stock main, West Boylston's Derek Ramstrom went on to introduce himself to Seekonk Speedway's Victory Lane. But for a while, it looked like someone else would be the victor. Home town driver Dave Darling jumped from his third starting position into the lead before lap one was complete, and held on through the first 27 laps until he ran over some debris under caution and cut a right rear tire, handing the lead over to Ramstrom. Once out front though, Ramstrom, who was simply biding his time during the early laps, never looked back.

While Derek set the pace, lots of action was taking place behind him. Walpole's Craig Weinstein ran second for much of the middle portion of the event, with Mike Brightman behind. They ran that way until Darling worked his way back through the field into second on the 53rd lap

He shadowed the leader, but could not get close enough to make a serious challenge. Over the last quarter of the event, Bridgewater's Dick Houlihan was able to make up for some lost time, and moved into the second spot where he followed Ramstrom across the line. Darling finished third with Brightman and Lakeville's Elmer Wing fourth and fifth.

Ramstrom was candid in his post race comments. "My crew chief wasn't here, and we had to do without him. There was a lot of checking up in that race - in that long race (due to numerous caution flags). I hope Kenny Spencer is OK (due to a wreck). It was also just a process of elimination because of all the wrecks and caution flags."
Saturday
September 22nd
THE WIN FOR DEREK

DEREK 2012 SLM CHAMPION
The Super Late Model division ran a limited schedule during the 2012 season but that did not stop Derek Ramstrom from claiming his third title in four years at the Thompson Speedway.

The Worcester native also won the Pro All-Stars Series (PASS) race in July.

Following Ramstrom in the championship standings were Jim Banfield, 2007 champ, Mike O'Sullivan, the defending 2011 division champion, Larry Gelinas and veteran Dick Houlihan.
9/16 Thompson 50 Lapper Race Report:
Larry Gelinas of Buxton, ME, watched as the leaders fell to the rear of the field after a late race incident giving him the shot at victory. Derek Ramstrom took advantage of his pole starting position to lead the opening laps of the 50-lapper. Ramstrom had command of the race through a caution on lap 17. After a long clean-up for fluid on the racing surface, there was a change for the lead. On the lap 17 restart, O'Sullivan was the new leader. Ramstrom had Larry Gelinas in tow.

After several laps, Ramstrom began to reassert himself. For a pair of laps, Ramstrom ran alongside of leader O'Sullivan. A spin by newcomer Kevin Gambacorta necessitated the caution again on lap 23. O'Sullivan was again up for the challenge on the restart. Gelinas took chase. Ramstrom again started to pour it on; going door-to-door with O'Sullivan. After several laps, Ramstrom settled back in line, inches from O'Sullivan.

It did not take long for Ramstrom to go back to work to O'Sullivan's inside. Gelinas had the best seat in the house directly behind the battle for the lead. Jim Banfield was making tracks toward the lead pack during the long green flag run.

On lap 38, Ramstrom made his bid for the lead. He got around O'Sullivan on the backstretch. Coming off of turn four contact between the lead duo sent Ramstrom spinning. O'Sullivan was relegated to the rear of the field for his involvement.

The new front row on the restart was Gelinas and Jim Banfield. Gelinas got a great run to motor out to the lead over Banfield. Ramstrom and O'Sullivan were on the move. Both cleared Daryl Stampl. O'Sullivan followed Ramstrom passed Josh Vanada and then Dick Houlihan. With five laps to go, Gelinas led by a sizeable advantage over Banfield, Ramstrom, O'Sullivan and Houlihan inside the top-five.

Ramstrom caught Banfield with two laps to go. Gelinas continued to lead. Over the closing laps, Ramstrom could not muster up a serious challenge on Banfield for second. It was clear sailing for Gelinas to pick-up the 50-lap Super Late Model victory. Banfield finished second ahead of Ramstrom. O'Sullivan and Houlihan rounded out the top five.

SLM 50 Laps - August 23rd
Derek 1st
Derek takes the win in the 50 lapper and takes the lead in the
SLM points standings with 194 with Jim Banfield in 2nd at 186.

SUNDAY, AUGUST 12th

9th at WMMP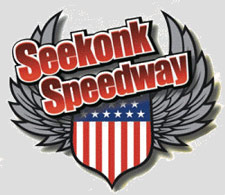 SATURDAY, AUGUST 4th

9th at Seekonk
After surviving a lap 15 off track in turn 4, Derek raced up to take the lead from the #30 of Freddy Astle on lap 35. After swapping the lead on a couple of restarts with the #17 of Travis Benjamin , the #35 and #17 got together in turn four and Derek spun out of the lead - final shot below. Coming from the back, Derek could only make it back to 9th.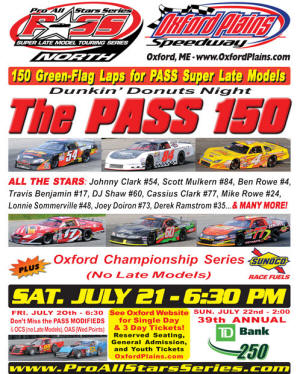 SATURDAY, JULY 21st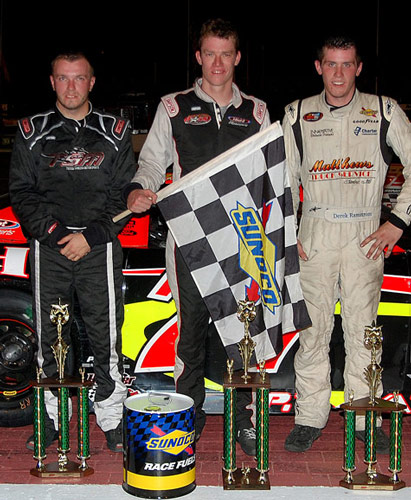 3rd Place
- - - - -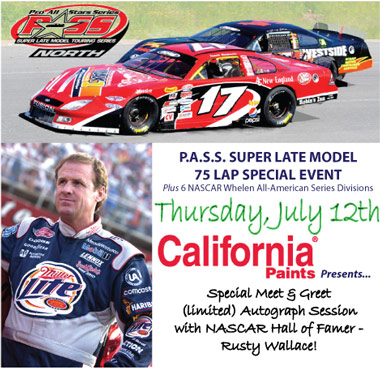 THURSDAY, JULY 12th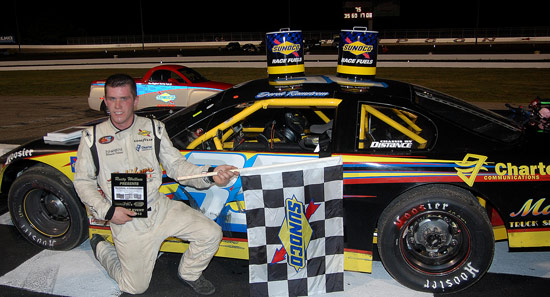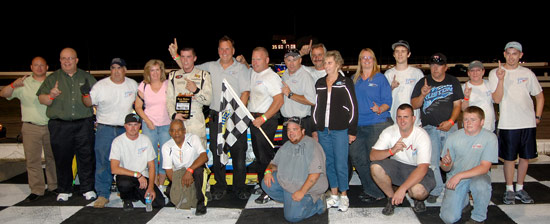 The Win for Derek
Go to YouTube to play above at a larger size HERE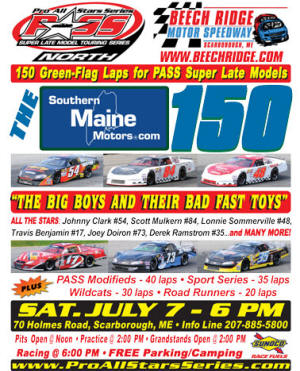 SATURDAY, JUNE 30th

20th
at Beech Ridge
Derek and the team fought to find some grip at Beech Ridge like most of the other PASS teams that night.
A couple of stops in the pits failed to improve the #35.
Then a solo spin in turn one on lap 139 finished up the night with a 20th place.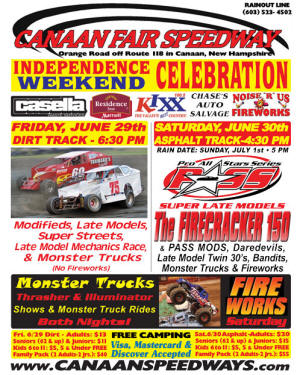 SATURDAY, JUNE 30th

6th
at Canaan

SATURDAY, JUNE 23rd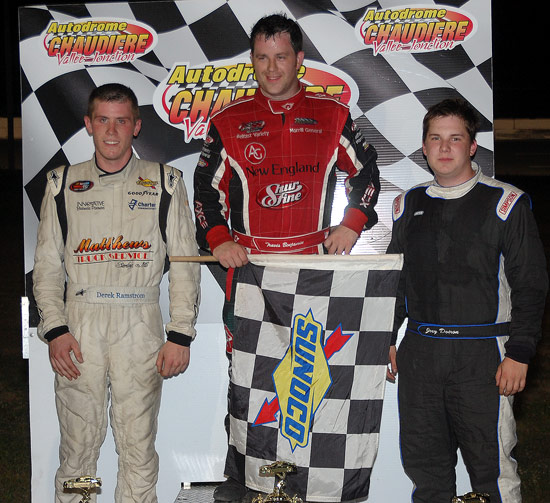 2nd at Chaudiere
Derek battled back from an early spin with a flat tire after contact and took second from the #16 of Kevin
Roberge in the closing laps. Joey Doiron #73 followed
in third. Travis Benjamin scores his first win.
SUNDAY, JUNE 10th

5th at 660

SATURDAY, MAY 26th


No. Woodstock, NH
19th at WMMP
Battle for 2nd with Joey Pole ends with a
lap 148 spin and a flat right front tire.
SATURDAY, MAY 12th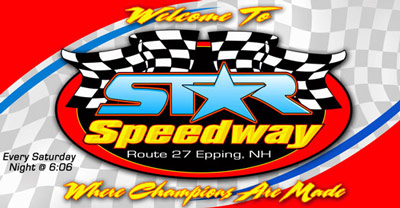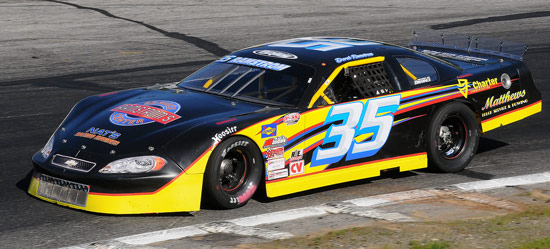 13th at Star
The hits started in the heat and kept on coming.
From the back up through the pack again -- then
another shot -- made it a long day.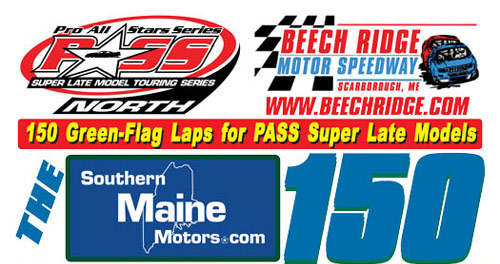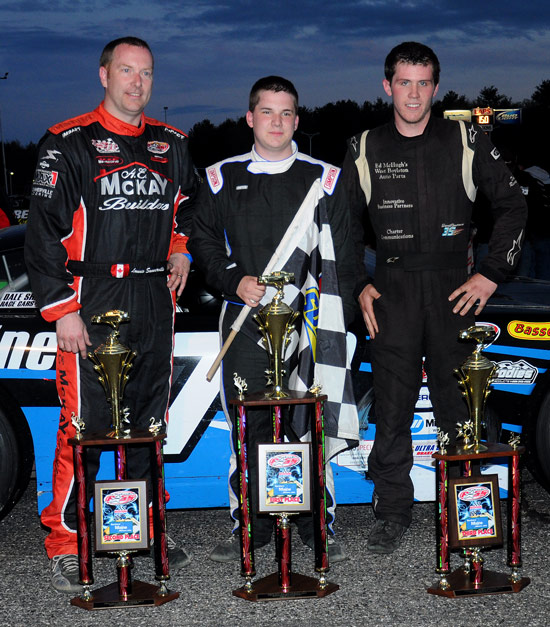 Derek Scores a 3rd at Beech Ridge
Derek comes from mid-pack up to third following Joey Doiron and Lonnie Sommerville.

Richmond International Raceway


Richmond, VA




Thursday, April 26, 2012

Derek 14th at Richmond
after starting 28th

DEREK REPORTS:

The weekend started off rough due to some rain. When we unloaded the car for the first round of practice the car was extremley tight. We attempted a variety of adjustments through the practice session but did not have much luck improving the handling.

Due to rain the K&N Pro Series cars were limited to one round of practice. At this point we knew that the car was as good as it was going to be. The (renumbered)#35 timed 28th place out of 36 cars.

Starting in the back of the pack is always a disadvantage but I made my way through all the wrecks. Some good passing moves worked us up to 14th at the checkers.


.

Photos by
Stephanie
Jordan

LIVE COVERAGE ON SPEED: The Blue Ox 100 will be carried live on SPEED, which will mark the first time since the 2008 season that the K&N Pro Series East has had a points-paying race broadcast same-day. The exhibition Denny Hamlin Short Track Showdown will also air live from Richmond following the Blue Ox 100.
Starts at 7:00 PM EST.

HOMETRACKS LIVE: K&N East At RICHMOND -

HERE
For the Event Schedule, Entry List, Practices, Qualifying,
Race Lap by Lap, & Results
News & Notes: K&N East Returns To Action at
Richmond International Raceway

-

HERE

Statistical Advance: Analyzing
The Blue OX 100 - HERE
Richmond International Raceway Data
Race: #3 of 14 overall (4/26/12)
Track Layout: .75-mile, D-Shaped asphalt oval
• Race Length: 100 laps (75 miles)
• Banking/Corners: 14 degrees
• Banking/Frontstretch: eight degrees
• Banking/Backstretch: two degrees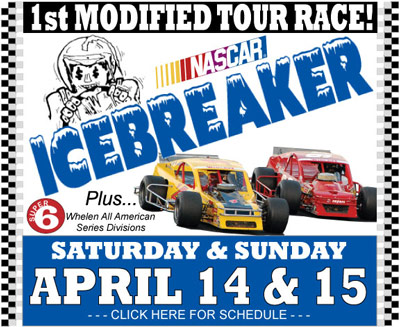 Derek The SLM Winner
at the ICEBREAKER
Thompson Race Report:
In Super Late Model action, Larry Gelinas took the early lead with Derek Ramstrom in the wings waiting for his opportunity to challenge, which he got at lap four. Ramstrom went low in the corner, but was held off by Gelinas. He looked low again on lap six coming off of four, but again, had to back out of it. On lap seven, coming off of four, Ramstrom got his No. 35 machine side-by-side with Gelinas and pulled ahead for the lead coming off turn two of lap eight. Once out front, Ramstrom was able to pull ahead by two carlengths before the caution flew at lap eight.

Ramstrom jumped to the lead with Gelinas hanging right there with him in second. Mike O'Sullivan followed in third, and began looking for a way around Gelinas by lap 13. He found the chance to challenge at lap 14 in turn four, where they ran side-by-side, but Gelinas held the position and settled back in comfortably to second by the following circuit. On lap 20, O'Sullivan challenged again and the two ran door-to-door for an entire lap before O'Sullivan took the second position away in turn two of lap 21. Ramstrom continued his dominance up front until caution slowed the pace at lap 28.

Ramstrom jumped right back out front on the start with O'Sullivan, Gelinas, Jim Banfield, and Norman Wrenn rounding out the top-five. Ramstrom went unchallenged out front for several more laps, but caution at lap 38 would tighten the field back up. Ramstrom could not be shaken, however, and drove right back out front. Caution flew for the final time at lap 47. The race went green for a single lap before Greg Nanigian spun and took a hard hit to the inside pit road retaining wall.

Try as he may, O'Sullivan could not knock Ramstrom from the lead and Ramstrom took the victory followed by O'Sullivan and Banfield.



Bristol Motor Speedway




Bristol, TN




SATURDAY, MARCH 17th

The Backstretch - Hartford Courant
Derek Ramstrom Kick Starts Busy
2012 Season With Strong Run
to 5th at Bristol Season Opener


by Shawn Courchesne

Derek Ramstrom and his new family owned NASCAR K&N Pro Series East team aren't quite ready to make a run at a full season in NASCAR's top developmental division, but over the weekend the West Boylston, Mass. driver showed that doesn't mean they don't belong.

The 20-year old Ramstrom, a regular at Thompson International Speedway, finished fifth in the season K&N Pro Series event Saturday at Bristol Motor Speedway.

"It's not all about how much money you spend," Ramstrom said. "It's preparation and teamwork and driver/crew chief communication that's key. Testing and having a lot of tires does help the big teams, but sometimes the underdogs can get it done." FULL STORY HERE

Photos by
Stephanie
Jordan

> Derek finishes 5th at Bristol.


Piquet wins, then Ryan Blaney, Ryan Gifford,
Andrew Smith and Derek.
> Derek has qualified 3rd at 117.906 mph with
Nelson Piquet Jr. on the pole at 118.811 mph and Darrell Wallace Jr. in 2nd at 118.058 mph.
> Race start has been moved up to 5:30 PM.

HOMETRACKS LIVE: K&N East At BRISTOL -

HERE
For the Event Schedule, Entry List, Practices, Qualifying,
Race Lap by Lap, & Results

News & Notes: East Opens 2012 At Bristol

-

HERE




First Series Appearance At "World's Fastest Half Mile"

Statistical Advance: Analyzing The Widow Wax 125 At Bristol Motor Speedway -

HERE
Ramstrom Racing 2012 Schedule
,

,
Ramstrom Racing is coming out strong this season. With both of our super late models up to date thanks to Distance Racing we are ready to tackle any challenge.
Opening our season in the K&N series at Bristol is an amazing opportunity. Our team is looking forward to taking a full swing at PASS racing this season.
We are lucky to still have the same crew members and sponsors as we have had in the past. Dedicated from day one I would like to thank Jeff Belyea, Jay Dugan, John Mc Junkins, Jack Minor, John and Zach D'ambra and of course all the sponsors who make this sport possible: Charter Communications, Matthews Truck Service and Towing, Innovative Business Partners, West Boylston Auto Parts, and Van Dyke Bailers.

.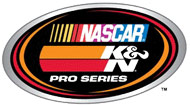 2012 K&N Pro Series East
Schedule Released
Slate includes three new venues, six companion events
NASCAR HOMETRACKS RELEASE - DAYTONA BEACH, Fl -2/23/11
NASCAR announced today the 2012 NASCAR K&N Pro Series East schedule that features 14 races at 12 different short tracks and speedways across the eastern United States.

The 26th season of K&N Pro Series East competition will see NASCAR's top developmental division visit 10 states, and will be highlighted by three additions to the calendar: Bristol (Tenn.) Motor Speedway, Raceway Park in Clearfield, Pa., and Rockingham (N.C.) Speedway.

"The NASCAR K&N Pro Series continues to establish itself as a desired destination for developing talent and the schedule has been designed with that in mind." said George Silbermann, NASCAR Vice President of Regional & Touring Series. "With a diverse mix of historic short tracks and speedway companion events with the NASCAR Sprint Cup and Nationwide Series, the 2012 calendar will provide competitors with the experience they need to further their careers."

The 2012 season will commence with the inaugural K&N Pro Series East event at the "World's Fastest Half Mile," Bristol (Tenn.) Motor Speedway, on March 17 as part of the spring NASCAR Sprint Cup Series weekend. It will be the third event in series history in the Volunteer State.

Greenville (S.C.) Pickens Speedway is back on the schedule with both spring and fall dates for the second year in a row. The first race at the venerable half-mile is slated for March 31 with a return engagement on Sept. 3 during Labor Day weekend.

Iowa Speedway has also added a second date for 2012. The sixth edition of the traditional spring combination event with the NASCAR K&N Pro Series West returns to the schedule on May 19 and it will be complemented with a second combo race on Aug. 3. Both events at Iowa will be held in conjunction with the NASCAR Nationwide Series.

In addition to Bristol and the two Iowa races, the K&N Pro Series East will have three more companion events in 2012 with NASCAR's national series. The East will return to Richmond (Va.) International Raceway on April 26, New Hampshire Motor Speedway in Loudon, N.H., on Sept. 22, and Dover (Del.) International Speedway on Sept. 28.

The July 14 date at Raceway Park will mark the third time the K&N Pro Series East has visited the central Pennsylvania facility, and first since 1988. The reconfigured facility now features a .625-mile layout.

The 2012 season will conclude with the inaugural stand-alone race in K&N Pro Series East history at Rockingham. It will be the series' first visit to the high-banked mile, since the East competed in combination with the Nationwide Series at "The Rock" six times from 1987-92.



Additional 2012 schedule notes:


• In addition to Richmond, three other facilities that welcomed the NASCAR K&N Pro Series East for the first time in 2011 have returned to the schedule. Historic Bowman Gray Stadium in Winston-Salem, N.C., is slated for June 2, Langley Speedway in Hampton, Va., returns for a June 23 race and Columbus (Ohio) Motor Speedway's event will be July 21.
• Gresham Motorsports Park in Jefferson, Ga., is on the calendar for the third year in a row with a June 9 race date.
• The event at New Hampshire moves from a Friday in recent seasons to Saturday as part of a doubleheader with the NASCAR Whelen Modified Tour.
• The Rockingham date will be a doubleheader with the NASCAR Whelen Southern Modified Tour.
• Bristol, Clearfield and Rockingham will bring the total of tracks in which the K&N Pro Series East has held stand-alone races to 43 since competition began in 1987.
• All 14 events will be contested directly in - or in the coverage area of - the top 100 media markets in the nation.

NASCAR K&N PRO SERIES EAST SCHEDULE HERE